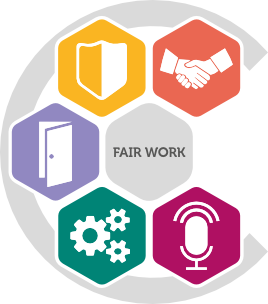 Why is Fair Work important?
Fair Work is work that offers effective voice, opportunity, security, fulfilment and respect. Fair Work generates benefits for everyone.
Voice and dialogue can help to resolve conflict and address unjust, unfair or unequal treatment. It can also identify opportunity and reinforce consensus.
Opportunity that provides fair and equal access to work and to career progression improves life chances of workers and creates opportunities for social mobility.
Security and stability of employment allows individuals to better plan their day-to-day lives and their future.
Fulfilling work can create a more rewarding work experience. It also contributes to a sense of purpose and self-worth and can support confidence and self-belief.
Respect at work enhances workers' health, safety and wellbeing. Dignified treatment can protect workers from workplace related illness and injury and create an environment free from bullying and harassment.
"Despite the recent year-on-year growth in youth employment in Scotland, and in the UK as a whole, the pre-recession rate of 62.7% for Scotland has not yet been achieved."
The Fair Work Convention
From the Fair Work Framework
"Lower employment opportunities for young people can have long-lasting and significant effects on their future employment and future earnings."
The Fair Work Convention
From the Fair Work Framework
How will my information be used?
We would like to assure you that, in accordance with the Code of Practice for Statistics, all the information we collect will be kept in the strictest confidence and used for statistics and research purposes only. It will not be possible to identify any particular individual in the results.
You can read our privacy statement here.